Hey
I just want to make this ABUNDANTLY clear
I'm amazing at what I do, and you would be smart to have me in your life. You know this already.
But many people have been confused about how best to work with me. So let's make it super simple.
The Rich Mentality is a training EVERYONE deserves to have. Whether you're an already established successful entrepreneur, a stay at home mum, in a love hate relationship with your corporate job, or a college grad trying to figure out life, the Rich Mentality will serve you and change your life in ways you didn't even know were possible.
The Rich Mentality brings real lasting happiness to your life. It's an experience of Divine bliss. 
It's part belief work, part mindset work, part faith work, part self discovery, part hypnosis, and part cellular reprogramming.
It is NOT a money mindset course. It is NOT money consciousness. It's something entirely new. It transcends the need to do money mindset work. It's a new way to exist. And I facilitate this new existence with a unique blend of hypnosis, meditation, and the awakening of your independent mind. 
Is an intimate group COACHING programme for those of you who want me to have hands-on input in your life and business. This is not a teaching or training course like The Rich Mentality. This is me with eyes and ears on your life and business, working with you to discover your actual Soul Purpose and help you turn it into a profitable and fulfilling business which has impact on the world.
It's done in a small group setting so it's more affordable for those of you who desire to work with me but don't want to pay my 1:1 rates. Yet.
12 weeks. £1332. Payment plans available. 2 spots currently open (but both have interested parties). We will open more pods if required. Starts NEXT WEEK.
Is both a mastermind, AND a 1:1 coaching option, for entrepreneurs already established and aching to get to the next level, or for those who have the financial facilitation to fast track their fledging business idea to more immediate success.
Includes one 1:1 session with me per month, and one mastermind call per month, sometimes with me, and sometimes with a guest expert. Our February expert is Chris Harder. Who is kind of a big deal. If you know you know.
Minimum term commitment is 3 months @ £1111 per month. After that you can roll monthly until you decide to pause, leave, or graduate to a 1:1 package.
If you want more of me in your life than the mastermind or the pods facilitate then 1:1 is the way.
For £2222 you can see me twice a month, have me on Voxer support 5 days a week, and enjoy an abundance of support from my team.
There are also VIP options starting at £5000 per month in which me and my team build your business for you, Ask Harriette style. Done for you is the way if you're super busy, don't yet have a team you can delegate to, or are just super serious about getting to the top in record time.
THE PRIESTESS RING
Currently open by invitation only, for those who are serious about training to become a Priestess. This is a year long training and initiation which equips you with the Priestess skill set. As you can see from where you're sitting, being a Priestess is a 7 figure job. But it's pretty fucking cool. And absolutely NOT for the feint hearted. For that reason, it's a 5 figure investment. If you'd like to be considered for a seat inside the Priestess Ring please let us know. Not everyone will receive an invitation to initiate.
Working with me in any and all forms comes with an abundance of support from my team. Here's a cool visual for you so you can compare the options!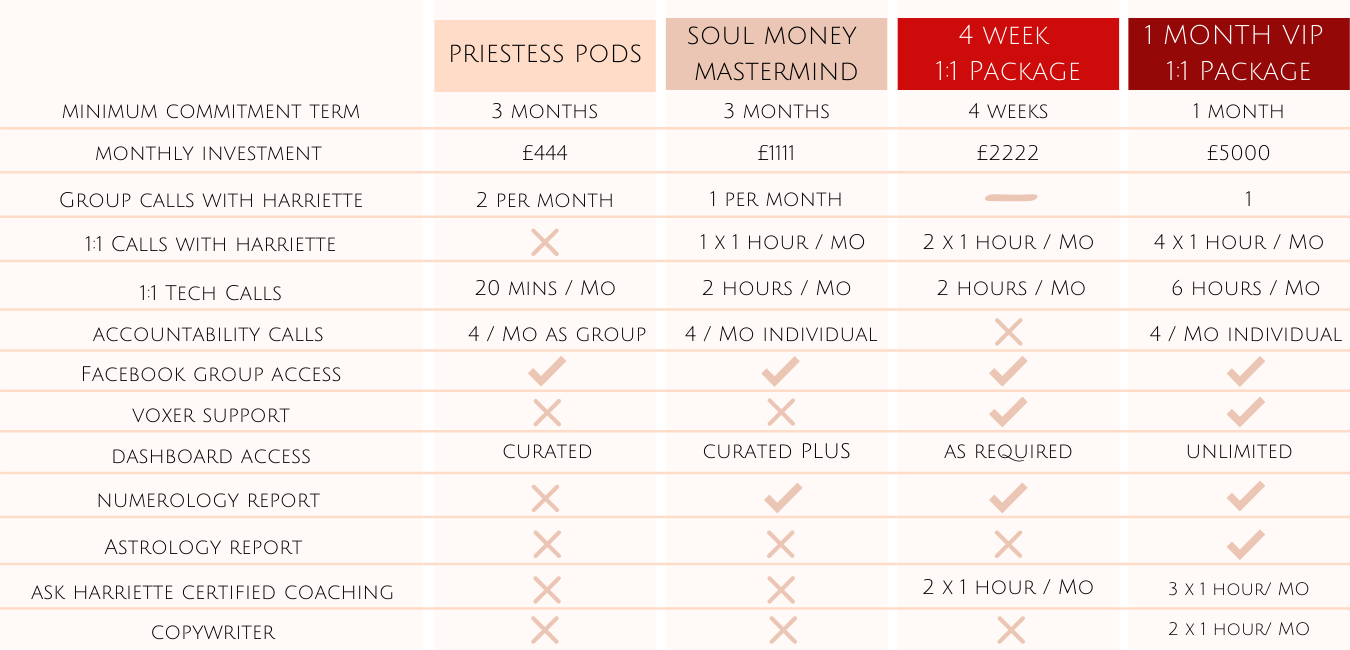 Whatever capacity you're considering working with me in, I urge you all to sit in The Rich Mentality class room (which consequently is the only way you can currently access The School of Mastery as it's offered as a bonus upon registration).
Hope that cleared things up, and you now have some clarity about how you'd like to work with me in 2020.
To book a call to chat with me about these options please click here. 
To chat to my team (perhaps they are less scary to you haha), please click here. 
I will be closing the doors for The Rich Mentality soon (waiting for a nudge from Spirit for an actual end date), but the implementation week has begun, so please don't delay… 40 days from now your life could be changed completely.
>>> The Soul Money Mastermind <<<
My love always
Harriette
p.s. a love note to other entrepreneurs out there… it's OK to have multiple doors open at the same time. It's OK to be launching more than one thing at once. It's OK to invite people into your world every day in a million different ways. This is The Rich Mentality.